Building Unity through Diversity
---
In 1999, I recognized the need to offer flexible learning options for students with a variety of needs within the International Community of Tokyo. I realized that the traditional structure of education was inappropriate for some young learners and set about creating a small school that provides a quality, personalized education in an inclusive learning environment. I am proud of our achievements to date and believe that our Not-for-Profit status and our committed and professional staff, will enable us to continue to provide the highest possible education services to students who benefit from a more individualized education program.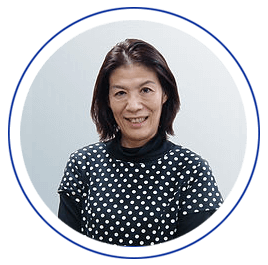 ---
Ms. Ikuko Tsuboya-Newell
Chairperson

At TIPS, we believe that every student is a unique individual. We provide an effective individualized education in a supportive atmosphere to students in the Tokyo area who benefit from a personalized approach.
Transparency
Our school seeks to ensure that parents are actively involved in their child's education. We strive to make every step we take with a student clear to the parents and explain why it is in the student's interest and how it will benefit them. Parents have access to all students records and information through our Quickschools system. This system also allows the parent to contact us if there is anything that they feel the staff should know. Teachers are also encouraged to email and phone parents to ensure parents are aware of positive and negative situations that have arisen with their son or daughter at school.
Balance
Given the wide range of academic levels in the school, our staff specializes in ensuring that each student is given equal time and a level of work that will challenge them but not overwhelm them. Our small class sizes allow for the teachers to know exactly what each student needs and ensure that they can succeed at their level. No student is ever left behind or made to feel inadequate.
Potential
At TIPS, we feel that every student has potential to succeed. We assess and recognize that each students success will also be different depending upon their own abilities and interests. We work hard to ensure that each student potential is tapped into and to give them the confidence and guidance needed to find the best possible opportunity for them to be successful after they leave the school. Our aim in the school is to find the spark that each student has and to work towards bringing that spark out into the open.
A small school environment ensures that students are well known to each other and to the staff. Our teachers take a personal interest in their students, and families are well connected to the school.
Typical descriptions of our school often include a sense of belonging and connection.
Parents articulate how well they feel their children are being taken care of. We are all part of the ISS Family.
Our core classes are limited to a maximum of eight students to give our students as much attention and access to their teacher as possible. All teachers are available four afternoons a week for Extended Instructional Time where students can access their teachers for additional help.
All students have access to approved TIPS accommodations. The specific test and classroom accommodations will be determined in consultation with the student, their parents, and members of our professional teaching staff.
In the review process accommodations can be added or dropped depending upon the growth and development of the student.
Our staff is reflective of the international composition of our school, with teachers from Canada, the USA, the UK, Ireland, Italy, Philippine and Japan. The entire TIPS faculty are fully accredited by their local professional organizations.
Teacher professional development is pursued in a variety of means to ensure the staff stays current concerning educational philosophy and practice. Our school team is engaged in continual coursework through the National Association of Special Education Teachers, and universities, including; Manchester Metropolitan University, the University of Leicester, De La Salle University, Manilla, Temple University, Japan and Trinity College, Dublin.
Our student body is comprised of boys and girls from grades 4 to grade 12 from all over the globe. Our school of 40 students is represented by over 15 different nationalities. In a small school setting each student can make a significant contribution to their school, and so each student is challenged to share their gifts and talents to make ISS a wonderful place to go to school.
Teacher Advisory Programs (TAPs) a three-day trip to various locations in Japan. Students get an opportunity to experience the diversity and history of Japan, while building relationship with their peers and teachers.
Additionally, a winter ski trip provides an opportunity for students to enjoy each other's company and enjoy the beauty of Japan during the winter.
One of our major spring activities in our annual Variety Show, where students get a chance to share all of their gifts and talents.
TIPS students have an opportunity to play on representational teams in volleyball, basketball, and futsal, competing with other schools in Tokyo. A comprehensive Physical Education program supports our extracurricular athletic program. All TIPS students participate in Physical Education every other day for the duration of the entire year. Our PE program focuses on skill development, improving fitness levels developing team play and sportsmanship.
Students also have an opportunity to feel part of the school by participating in teacher-sponsored clubs and activities. Activities that are typically sponsored are Chess Club, Film Making, Hiking, Music, Shotokan Karate, Boxing, Brazilian Jiu-Jitsu and Judo.