Welcome
Tokyo International Progressive School is the small school in the Futako-Tamagawa area that specializes in learning differences and learning support. We seek to provide a learning alternative for students whose needs are not met in mainstream international schools in Tokyo.
Teachers at TIPS are committed to the notion that students learn in different ways. We strive to maximize the learning potential of each of our students and do so partly by meeting the student where he or she is academically.
Regardless of our size, we are very proud of our students and our results.
We welcome you to tour our school to find out more about Tokyo International Progressive School.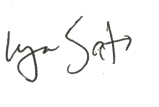 Lyn Sato
Principal