Tokyo International Progressive School curriculum is based on the Curriculum for Excellence, Scotland and fulfills the requirements for an American High School Diploma through the University of Nebraska Highschool..
Curriculum for Excellence
Aim Curriculum for Excellence is intended to help children and young people gain the knowledge, skills, and attributes needed for life in the 21st century, including skills for learning, life, and work.
Purpose Its purpose is often summed up as helping children and young people to become: • Successful learners • Confident individuals • Responsible citizens • Effective contributors. These are referred to as the four capacities.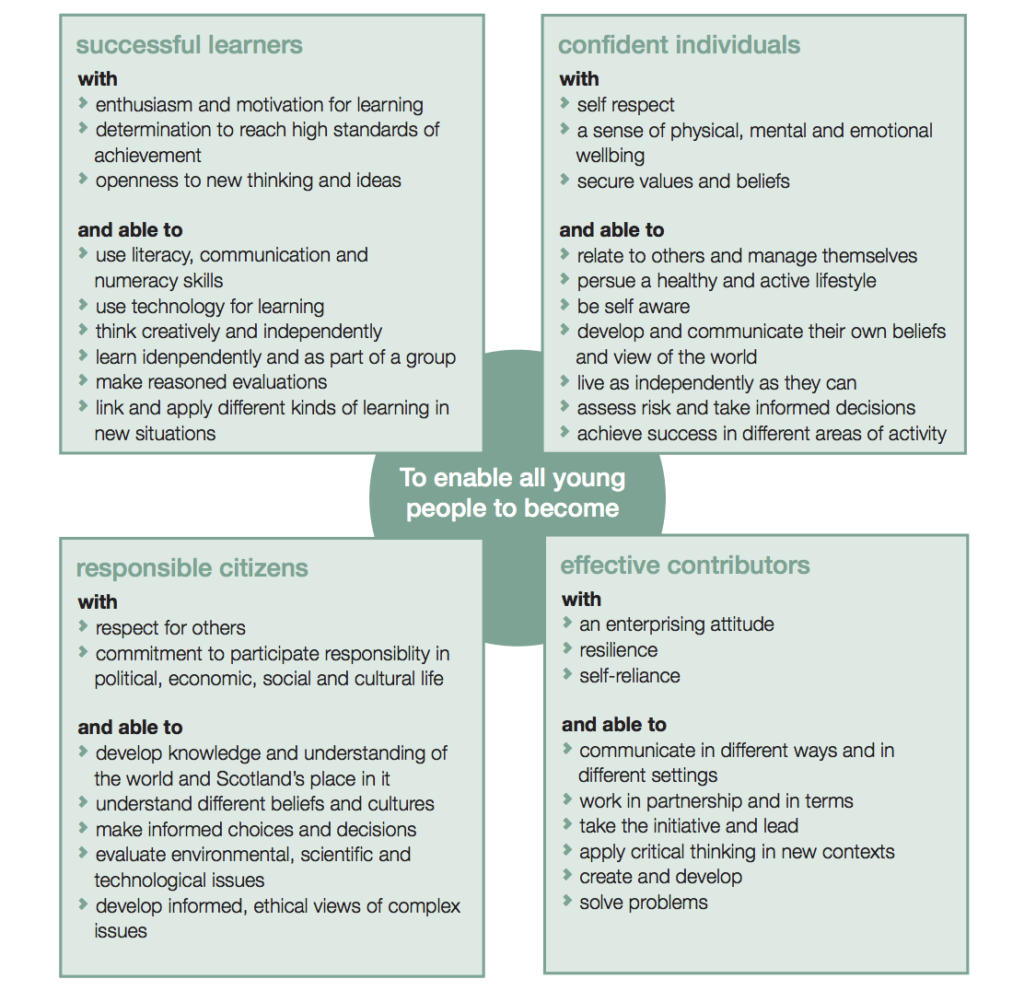 What is the curriculum and what does it include?
Curriculum for Excellence will offer better educational outcomes for all young people and will provide more choices and more chances for those young people who need them. This means: a coherent and inclusive curriculum from grades 1-12 wherever learning is taking place, whether in schools, colleges or other settings a focus on outcomes a broad general education time to take qualifications in ways best suited to the young person > more opportunities to develop skills for learning, skills for life and skills for work for all young people at every stage a focus on literacy, numeracy and health and wellbeing at every stage appropriate pace and challenge for every child ensuring connections between all aspects of learning and support for learning
Learning should be made available in a range of ways including interdisciplinary learning and a range of opportunities which ensure a broad approach, enabling, for example, a coherent understanding of environmental issues. The curriculum framework sets out what a child or young person should be able to do and the experiences that contribute to their learning, rather than detailed definitions of content or prescribed hours of study.
The intention must be to avoid driving young people through the levels as fast as possible. This arrangement of experiences and outcomes is intended to give teachers and other staff the flexibility and scope to follow issues through and to provide personalized and varying programmes of learning so that the young person is secure at a level before moving on.
The experiences and outcomes can be packaged in different ways appropriate to the individual child or young person. For example, some young people might learn about modern language outcomes as part of learning about hospitality or business, or outcomes related to mathematics in the context of learning about geography, or outcomes related to geography in the context of learning about science.
Planning should be done in a way that enables all pupils to capitalize on the specialist expertise of subject teachers. In all cases from grades 1-12 the focus should be on good quality learning and teaching.
The qualifications young people aim for should be flexible and designed to offer pathways to the next stage, whether in further or higher education, employment or training. They should be able to be taken at school, college or other settings and they should provide credit for young people's attainment.
Taken from http://www.gov.scot/resource/doc/226155/0061245.pdf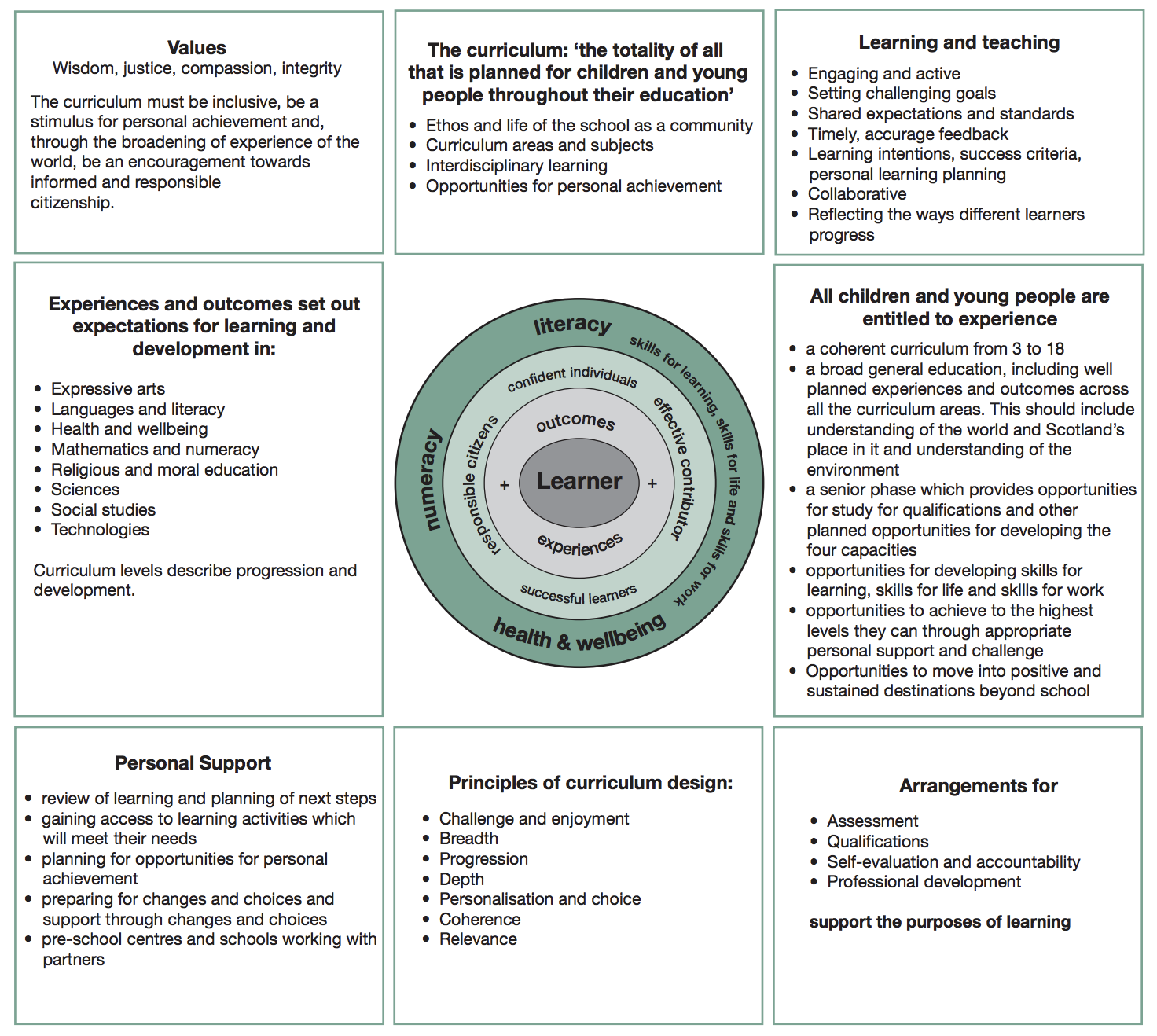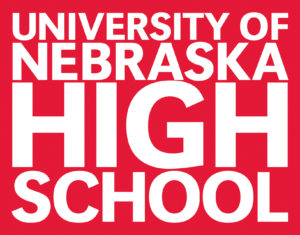 Accredited
UNHS is accredited by AdvancED and the Nebraska Department of Education. To maintain this accreditation UNHS continues to meet stringent standards in the areas of curriculum, staffing, instruction, awarding of credit hours and diploma-granting.
NCAA Courses
Most University of Nebraska High School online core courses are approved by the National Collegiate Athletic Association (NCAA), allowing students to earn the credits they need to meet initial eligibility requirements.
Advanced Placement (AP®) Courses
UNHS' AP® courses are approved by the College Board.
https://highschool.nebraska.edu/